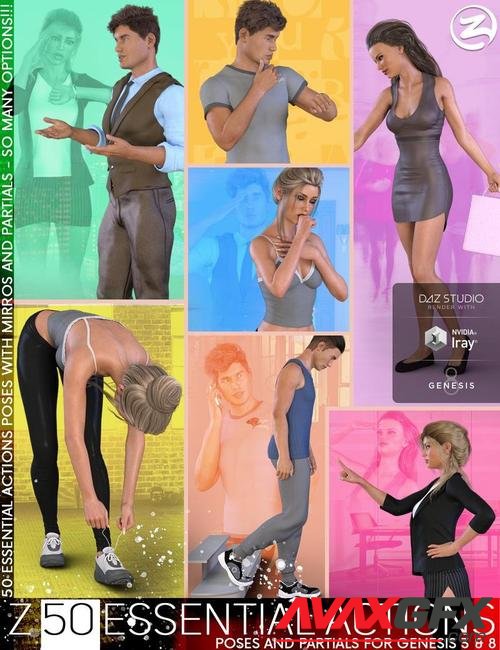 Z 50 Essential Actions - Poses and Partials for Genesis 3 and 8

Compatible Figures: Genesis 3 Male, Genesis 8.1 Male, Genesis 8.1 Female, Genesis 8 Female, Genesis 8 Male, Genesis 3 Female
Compatible Software: Daz Studio 4.15, Daz to Blender Bridge
Details
Explore the dynamics of everyday life with this mega pose collection for Genesis 3 and 8. Z 50 Essential Actions - Poses and Partials Collection for Genesis 3 & 8 is a must have set for your library! This set with useful poses will bring your renders to life and make your artwork pop!
MIX & MATCH Upper and Lower Body Pose Partials Included. Pair different tops with different bottoms for even more exciting possibilities.
All Poses have been carefully adjusted for both Genesis 3 and 8 Female and Male.
The set includes 50 Poses with Mirrors. Each pose was created with a focus on the little details such as lifelike hands, natural positioning and realism.
What's Included and Features


Z 50 Essential Poses and Partials for Genesis 3 and 8 Female (.DUF)




25 Full Body Poses with Mirrors


25 Upper Body Poses with Mirrors


25 Lower Body Poses with Mirrors


Reset Poses for Full, Upper Body & Lower Body







Z 50 Essential Poses and Partials for Genesis 3 and 8 Male (.DUF)




25 Full Body Poses with Mirrors


25 Upper Body Poses with Mirrors


25 Lower Body Poses with Mirrors


Reset Poses for Full, Upper Body & Lower Body







Notes


Additional Products used in Promo Images:




8 Female Mega Wardrobe


8 Male Mega Wardrobe


Hair for Genesis 3 8 Male(s)


Hair for Genesis 3 and 8


Workwear for Genesis 8 Female(s)


Grace Hair for Genesis 8 Females


Style for Genesis 3 Males


Wear Outfit for Genesis 8 Male(s)


Wear Outfit for Genesis 8 Female(s)





Download Links:
The minimum comment length is 50 characters. comments are moderated