dForce The Striga Ensemble for Genesis 3 and 8 Female(s)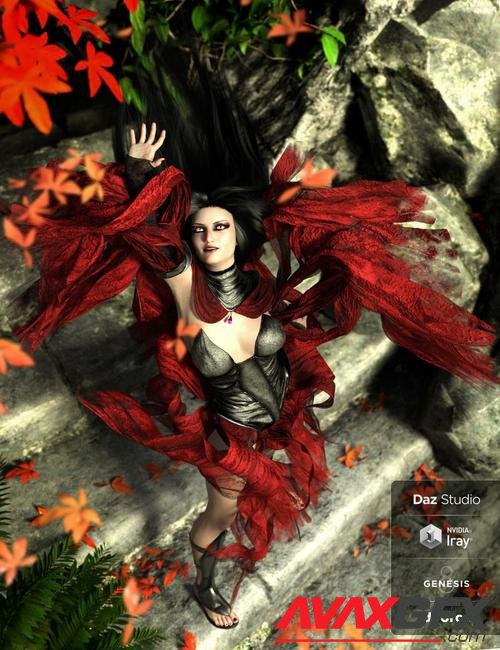 dForce The Striga Ensemble for Genesis 3 and 8 Female(s)

Compatible Figures: Genesis 8 Female, Genesis 3 Female
Compatible Software: Daz Studio 4.15, dForce Cloth, Daz to Unreal Bridge, Daz to Unity Bridge
Details
The Striga Ensemble introduces eight outfit parts - three of them dForce compliant beautifully draping pieces. The skirt, oversleeves and shoulderdrapes will bring a hint of luxury and classic beauty to your renders. They are easily customizable through a collection of morphs and movement control dials, so you are in full control of their behaviour at every time.
On top of the outfit, RiverSoft Art contributed a stunning set of twenty carefully crafted poses with their mirrored counterparts.
To make working with the Striga Ensemble as painless as possible, we have also provided hierarchical pose presets which will apply the pose of your choice to the Genesis figure AND presimulated draping morphs to the fitted outfit parts at once.
You have the choice if you want to use dForce or not!
To add a final finish, the eight texture sets by Arki and Shox-Design are saved as either indivdual material settings or can be fully loaded onto the fitted Striga Ensemble through Hierarchical Material Presets.
Please view our tutorial videos for the Striga Ensemble below to get an overview of the included features:
What's Included and Features


dForce Striga Ensemble for Genesis 3 and 8 Female(s): (.DUF)




Full Striga Ensemble for Genesis 3 Female(s)


Full Striga Ensemble for Genesis 8 Female(s)


Riversoft Art's Poses for the Striga Ensemble


Hierarchical Pose Presets to apply Riversoft Art's poses to G3F and G8F and the Striga outfit at once





Striga Collar G3F and G8F




Adjustments:




Adjust Collars


Adjust Neck


Adjust over Shoulders


Expand all





Styles:




Lift front


Collar Details HD








Striga Brooch G3F and G8F




Controls:




Jewel side-side


Jewel twist


Jewel up-down


Ring side-side


Ring up-down








Striga Corset G3F and G8F




Adjustments:




Adjust Back


Adjust Breast L


Adjust Breast R


Adjust Chest


Adjust Front


Adjust Hip


Adjust Waist


Adjust upper Torso





Styles:




Fit without Skirt


Sidewings thicker


Corset Details HD








Striga Gloves G3F and G8F




Adjustments:




Adjust Elbows


Adjust Forearms


Adjust Hands


Adjust Wrists


Adjust upper Arms


Expand all








Striga Sandals G3F and G8F




Adjustments:




Adjust Feet


Adjust Knees


Adjust Shins


Expand all





Styles:






Striga Oversleeves G3F and G8F




Controls:




L Sleeve front-back


L Sleeve twist


L Sleeve up-down


R Sleeve front-back


R Sleeve twist


R Sleeve up-down





Adjustments:




Adjust Shoulders


Adjust Shoulders top


Adjust upper Arms





Poses:




Calling Lightning


Calling Lightning M


Floating in Water


Floating in Water M


Force Push


Force Push M


Looking Back


Looking Back M


Lying Down


Lying Down M


Reclining


Reclining M


Sitting


Sitting M


Spellcasting


Spellcasting M


Standing


Standing M


Walking


Walking M





Styles:




Free L Elbow


Free R Elbow


Sleeves longer


Sleeves shorter


Spread over Arms








Striga Shoulderdrapes G3F and G8F




Controls:




L Drape front-back


L Drape side-side


L Drape twist


R Drape front-back


R Drape side-side


R Drape twist





Adjustments:




Adjust Collars


Adjust over Shoulders


Expand all





Poses:




Calling Lightning


Calling Lightning M


Floating in Water


Floating in Water M


Force Push


Force Push M


Looking Back


Looking Back M


Lying Down


Lying Down M


Reclining


Reclining M


Sitting


Sitting M


Spellcasting


Spellcasting M


Standing


Standing M


Walking


Walking M





Styles:




Drape


Drapes longer


Drapes shorter








Striga Skirt G3F and G8F




Controls:




L Shin front-back


L Shin side-side


L Shin twist


R Shin front-back


R Shin side-side


R Shin twist


Adjustments


Adjust Hip


Adjust Thighs





Poses:




Calling Lightning


Calling Lightning M


Floating in Water


Floating in Water M


Force Push


Force Push M


Looking Back


Looking Back M


Lying Down


Lying Down M


Reclining


Reclining M


Sitting


Sitting M


Spellcasting


Spellcasting M


Standing


Standing M


Walking


Walking M





Styles:




Drape


Full


Lift back


Lift front


Lift left


Lift right


Skirt longer


Skirt shorter


Twirl left


Twirl right








One wearable preset to load all parts of the outfit of the outfit, with adjustment and fit morphs activated to use with dForce simulations for Genesis 3 Female(s)


One wearable preset to load all parts of the outfit of the outfit, with adjustment and fit morphs activated to use with dForce simulations for Genesis 8 Female(s)


One wearable preset to load all parts of the outfit of the outfit, with adjustment and fit morphs activated to use with the included hierarchical pose presets for Riversoft Art's poses for Genesis 3 Female(s)


One wearable preset to load all parts of the outfit of the outfit, with adjustment and fit morphs activated to use with the included hierarchical pose presets for Riversoft Art's poses for Genesis 8 Female(s)


Riversoft Art's Striga Poses:




Calling Lightning


Calling Lightning M


Floating in Water


Floating in Water M


Force Push


Force Push M


Looking Back


Looking Back M


Lying Down


Lying Down M


Reclining


Reclining M


Sitting


Sitting M


Spellcasting


Spellcasting M


Standing


Standing M


Walking


Walking M





Riversoft Art's Hierarchical Pose Presets for G3F, G8F and the Striga Ensemble:




Calling Lightning


Calling Lightning M


Floating in Water


Floating in Water M


Force Push


Force Push M


Looking Back


Looking Back M


Lying Down


Lying Down M


Reclining


Reclining M


Sitting


Sitting M


Spellcasting


Spellcasting M


Standing


Standing M


Walking


Walking M





Arki's Striga Ensemble Textures:




04 Full Options for all outfit parts


04 Full Hierarchical material presets for all outfit parts







Shox-Design's Striga Ensemble Textures:




04 Full Options for all outfit parts


04 Full Hierarchical material presets for all outfit parts







Textures Include:




37 Texture, Bump, Transparency and Specular Maps (up tp 4096 x 4096)


107 Texture, Bump, Normal, Transparency and Specular Maps (up tp 4096 x 4096)







Daz Studio Material Iray Presets (.DUF)


Notes


Additional Products used in Promo Images:




Heart of the East


Pond


Hair


Hair for Genesis 3 and 8 Female(s)


Hair for Genesis 3 Female(s)





Download Links:
DOWNLOAD FROM HOT4SHARE.COM
The minimum comment length is 50 characters. comments are moderated